Our nutritional program provides both emergency and ongoing pantry services five days weekly (Mon-Fri) and we provide individualized nutrition assessments, counseling sessions and, in conjunction with our care coordination program, nutrition education classes.
Nutrition Health Education at the Harm Reduction Center
Food Pantry and Nutritional Counseling at the Wellness Center
Nutrition Education Groups
SNAP referral  (Food Stamp Program)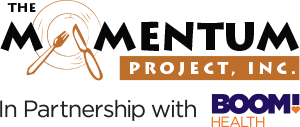 The Momentum Project
The Momentum Project is a partnership with BOOM!Health to enhance food pantry, congregate meal and nutritional services for homeless New Yorkers living with HIV/AIDS and other chronic medical conditions in the Bronx and Manhattan.  Read more about the partnership here.

Twenty-six years ago, the Momentum Project began as an all-volunteer organization dedicated to feeding disenfranchised New Yorkers living with HIV/AIDS. Today, Momentum has grown into one of New York City's largest HIV/AIDS organizations providing hot meals, pantry bags, and a wide array of life saving support services at two locations in two boroughs of the city.

What continues to be unique about the Momentum model is that our congregate meal and pantry service attracts the hardest-to-reach individuals with HIV/AIDS, and that we provide all our services in a non-judgmental and supportive environment in our clients' own neighborhoods. Our comprehensive team of nurses, nutritionists, social workers, chaplains and other specialists engage more than 3,000 low-income individuals with HIV/AIDS every year during meals, and educate, counsel, and link them to primary healthcare, mental health and substance abuse treatment, housing, and other essential services. Momentum works because of the pooling of public and private sector resources, our dedicated staff, committed Board of Directors, caring volunteers, and the trust of thousands of HIV/AIDS clients and their families.

Services
Communal Meals and Grocery Bags
Nutrition
Nursing/Health Education
Treatment Adherence Support Program
Supportive Counseling
Relapse Prevention & Harm Reduction Services
Intensive Supportive Services
Assistance with Benefits & Life Skills Services
Housing Advocacy

Sites and Schedule
DAY / DIA
INTAKE / INSCRIPCIÓN
TIME / TIEMPO
LOCATION / LOCALIZACIÓN
ADDRESS / DOMICILIO
DIRECTION / INSTRUCCIÓN
Monday* / Lunes
3PM
11AM-1PM
4-6:30PM
Middle Collegiate Church (Lower Eastside)
50 East 7th Street
N/R or 6 to Astor PlaceF to Second Avenue
Tuesday / Martes
3PM
4-6:30PM
Saint Peter's Lutheran Church(Midtown)
619 Lexington Ave.At 54th Street
E/M to 53rd St. & Lex.6 to 51st St. & Lex.
Wednesday* / Miercoles
3PM
11AM-1PM
4-6:30PM
Church of God of Prophecy (Bronx)
85 East 165th St.At Gerard Ave.
B, D & 4 to 167th St.
Thursday / Jueves
12:30-1:15PM
BOOM!Health Harm Reduction Center (Bronx)
226 East 144th St.3rd Floor.
2, 4, & 5 to 149th St. & Grand Concourse
Friday* / Viernes


12PM - 3PM
Trinity Baptist Church (Bronx)
808 East 224th st. 
2/5 Train to 225th & White Plains Rd. 
* Lunch service Mondays, Wednesdays and Fridays is open to the public. Los lunes, miércoles y viernes, el servicio del almuerzo está abierto al público. 


Become a Client
For information about how to become a client of the Momentum Project or to make a referral, please contact Yizel Santana at [email protected], or visit one of the Momentum service locations listed above.