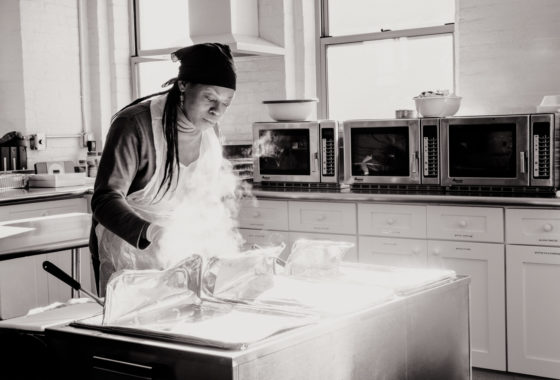 Preparing Thanksgiving lunch at the BOOM!Health Harm Reduction Center.
The Momentum Project Forms New Alliance with BOOM!Health to Enhance Food Services for the Most Vulnerable
By
BOOM! Health
/
Jan 16, 2014
Today, BOOM!Health and The Momentum Project announced the details of a new strategic alliance to promote health and wellness through the provision of nutritious communal meals and supportive services to low income New Yorkers, especially those living with HIV/AIDS or other chronic illnesses. Momentum, which was previously a subsidiary of VillageCare, and BOOM!Health will now provide over 93,000 hot meals, 40,000 pantry bags and a wide array of lifesaving support services in Manhattan and the Bronx. In a joint statement, Michael F. Mazier, Chairman of the Momentum Project Board of Directors and Emma Devito, President and CEO of VillageCare, state, "This partnership between Momentum Project and BOOM!Health facilitates the expansion of services that are essential to the dignity, health and quality of life of our community."
BOOM!Health responds to the pressing social issues of hunger and obesity as primary community problems to solve, and Momentum is the ideal partner to further this component of its strategic vision to enhance and expand current food pantry, nutritional and emergency congregate meal programs. "In recognition of Momentum's sterling reputation, skills and expertise in community food and nutrition services, we are committed to our shared future growth and integration with BOOM!Health's comprehensive service model," states Sidney B. Joyner, Chair of the BOOM!Health Board of Directors.
The Momentum Project will operate as an integrated initiative of BOOM!Health, with support for fundraising, program expansion, impact evaluation and advocacy. BOOM!Health was formed as the result of a merger on August 14, 2013 of Bronx AIDS Services and CitiWide Harm Reduction to create a new model that removes barriers to accessing primary medical care, as well as HIV and viral hepatitis prevention services, while supporting clients and program participants on their journey towards wellness and self-sufficiency. "In offering a caring environment where hope can flourish, an alliance between Momentum and BOOM!Health nurtures the spirit and improves the quality of life of those we serve," explains Robert Cordero, President/Chief Program Officer of BOOM!Health.
Please note that the Momentum Project initiative will be effective March 3, 2014.
Related News